Here to Help - 2019 Spring Appeal

"Having the right equipment gets clinical information into our hands faster. That information helps us to diagnose and treat our patients with exceptional care," said Dr. Mark Chandra, co-chief of Hospitalist Medicine at Ross Memorial Hospital. Dr. Chandra is one of four Hospitalists who are working with the RMH Foundation to fundraise through the 2019 Spring Appeal.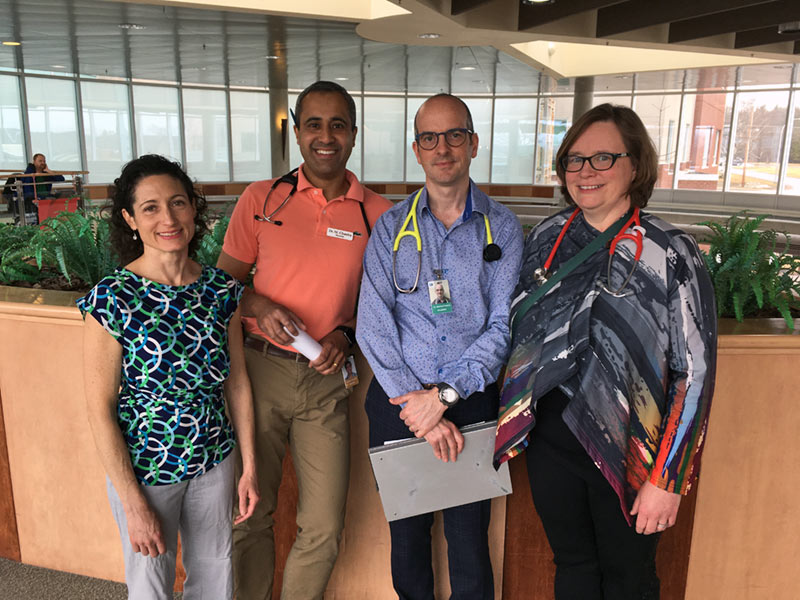 The 'Here to Help' Spring Appeal letter has been mailed throughout the City of Kawartha Lakes to encourage donor support for equipment needs for which the Hospital does not receive provincial funding.
"The Foundation is hoping to raise $107,650.00 to purchase a new blood gas analyzer for the Hospital's Lab, a carbon dioxide monitor and oxygen delivery machine for the Intensive Care Unit, portable vital signs monitors for the Medical and Surgical Units, and a transport monitor for use when patients are being transferred by ambulance," said Erin Coons, RMH Foundation Executive Director. "The donations we receive from the community are vitally important when it comes time to replace aging equipment or buy new technology. It's through the support of donors that these tools are available at the bedside, day in and day out.
RMH Foundation Board Chair Brian Kelsey is grateful for the Hospitalists' leadership. "We are so pleased to be collaborating with the Ross Memorial's two Hospitalist couples on this fundraising appeal, because they are true patient champions, providing care throughout the Hospital and working with frontline staff, specialists and coordinating care with other organizations. When it comes to meeting the needs of patients at the Ross Memorial Hospital, these physicians are here to help."