Donating Homemade Masks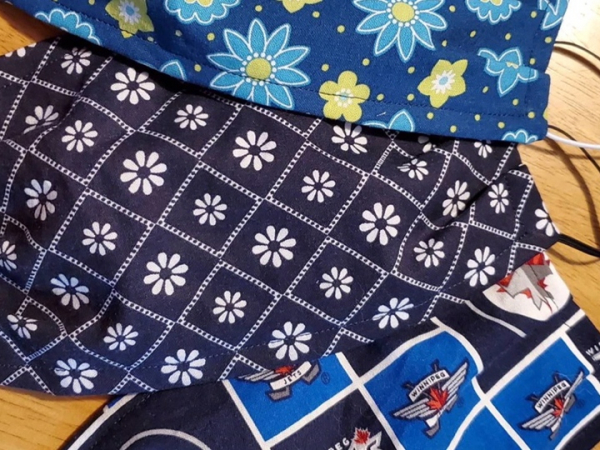 With the world responding to the COVID-19 pandemic, there is a shortage of personal protective equipment (PPE), including masks.
Homemade masks are NOT being accepted for frontline caregivers at Ross Memorial Hospital as they must wear certified PPE.
Homemade masks that are donated to the Ross Memorial Hospital are made available for:
hospital visitors
patients who are leaving the hospital and heading home
If you would like a homemade mask, please don't come to the hospital to get one as we are working hard to limit interactions to protect patients and the Ross Team. You can make your own using the simple instructions below.
It is important that homemade masks are used and cleaned properly.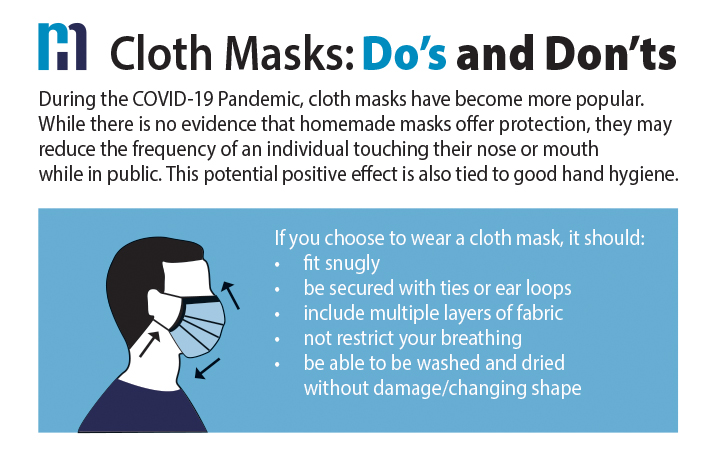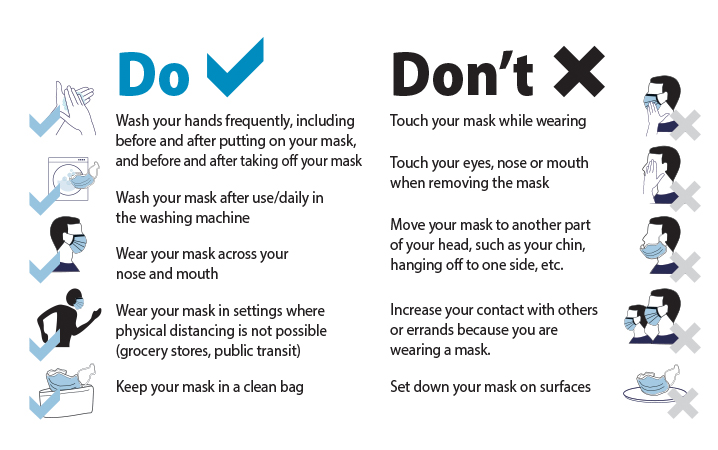 We appreciate your offers of support and donations of homemade masks. You are all Heroes at Heart!
How can I drop off my masks?
Please put your sewn masks in a plastic bag with your contact information (name, address, email address and phone number). Providing your contact information gives us the opportunity to thank you!
The masks can be dropped off in the Ross Memorial Hospital's main lobby between 10am and 4pm Monday to Friday. Or you may choose to mail the masks to:
Ross Memorial Hospital (attention: Tara Cheeseman)
10 Angeline St. North
Lindsay, ON K9V 4M8
Thank you for putting your talents to work for the good of the community!
The Centre for Disease Control offers several different patterns to follow (below) or you can download instructions here. If you are donating masks to the Ross Memorial Hospital, please use the following pattern for a Sewn Cloth Face Covering.
Sewn Cloth Face Covering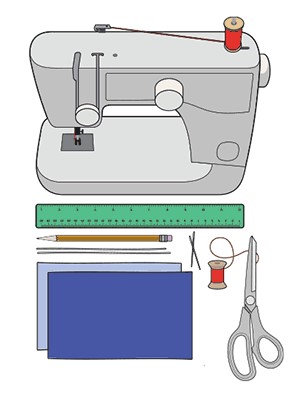 Materials
Two 10"x6" rectangles of cotton fabric
Two 6" pieces of elastic (or rubber bands, string, cloth strips, or hair ties)
Needle and thread (or bobby pin)
Scissors
Sewing machine
Tutorial
1. Cut out two 10-by-6-inch rectangles of cotton fabric. Use tightly woven cotton, such as quilting fabric or cotton sheets. T-shirt fabric will work in a pinch. Stack the two rectangles; you will sew the mask as if it was a single piece of fabric.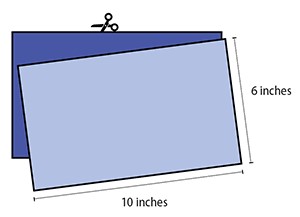 2. Fold over the long sides ¼ inch and hem. Then fold the double layer of fabric over ½ inch along the short sides and stitch down.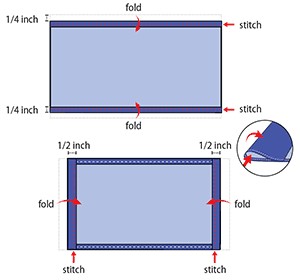 3. Run a 6-inch length of 1/8-inch wide elastic through the wider hem on each side of the mask. These will be the ear loops. Use a large needle or a bobby pin to thread it through. Tie the ends tight. Don't have elastic? Use hair ties or elastic head bands. If you only have string, you can make the ties longer and tie the mask behind your head.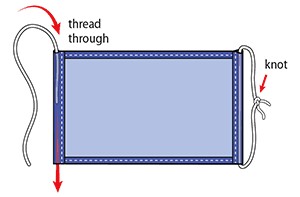 4. Gently pull on the elastic so that the knots are tucked inside the hem. Gather the sides of the mask on the elastic and adjust so the mask fits your face. Then securely stitch the elastic in place to keep it from slipping.