BirdHouse Realty: Kawartha Lakes Ambassadors and RMH Champions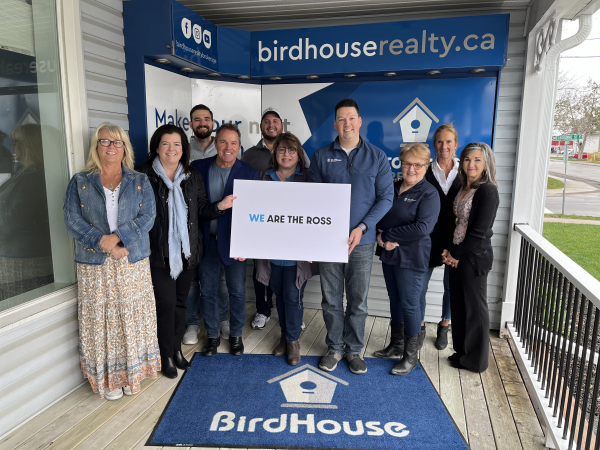 April 18, 2023 - The team at BirdHouse Realty has great cause for celebration. Marking the first anniversary of the new brokerage, Brad Bird's team has been connecting people with places throughout the Kawartha Lakes and helping residents to fulfill their dreams. At the same time, they've been supporting the community they call home.
One of Brad Bird's goals in creating this new brokerage was to do more for the community. That's how the BirdHouse Legacy Fund came to be. With every completed transaction, selling agents contribute $50 to the Legacy Fund and that contribution is matched by BirdHouse Realty. At the end of the year, the agents select four charitable causes to support with a donation from the fund.
"As ambassadors of the Kawartha Lakes lifestyle, we know that a vibrant community includes an exceptional hospital," said Brad Bird, Broker of Record. "Our team selected the Ross Memorial Hospital Foundation because we all know someone who has needed care at Ross Memorial Hospital, and we know that the Foundation supports the purchase of medical equipment that isn't otherwise covered through government funding. The donations stay in our community and the impact can be seen right here at our hospital."
"We're honoured to be part of the BirdHouse anniversary celebration and to be selected among the community causes they're supporting through the BirdHouse Legacy Fund," said Erin Coons, RMH Foundation CEO. "Their gift of $3,700 will impact care funding transformational technology, medical equipment and capital projects. These include the community's new MRI and CT Scanner; the Clinical Information System that connects bedside tools, imaging and test results to patients' digital medical records; and essential equipment including the hospital's fleet of IV pumps."
The photo shows (left to right):
Karen Bird, Erin Coons, Evan Connolly, Brad Bird, Patrick Lynch, Sherry Hansen, Keith McDonald, Marg Hildenbrand, Marie Hansen, and Kari Kelsey at BirdHouse Realty in Lindsay