Bobcaygeon Legion is advancing care at Ross Memorial Hospital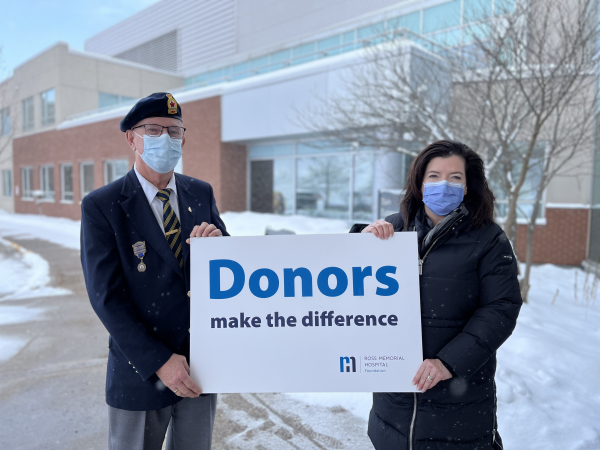 December 20, 2022 - For thirty years, the members of the Royal Canadian Legion Bobcaygeon Branch 239 have generously supported priority needs at the Ross Memorial Hospital. Since 1992, the Legion's donations have helped to fund modernization projects in the Dr. Gargi Bhatia Family Birthing Centre, the construction of the Dialysis Unit and critical acquisitions in the Operating Suites, the Laboratory, Intensive Care Unit and Diagnostic Imaging.
Today, Legion President Gary Whelan visited the Ross Memorial to present a gift of $5,000 to RMH Foundation CEO Erin Coons to support the new clinical information system (CIS). The CIS is part of a digital transformation that connects bedside medical equipment and life-saving technology to patients' medical records and makes them accessible to care providers and patients — wherever they are.
"This exceptional gift from the Bobcaygeon Legion Branch 239 to the Our Best To You holiday appeal is just the latest gesture of generosity in their long history of community support," said Erin Coons. "Service organizations including the Royal Canadian Legion continue to have a profound impact on the Ross. We're grateful for their interest in ongoing efforts to modernize and enhance patient care in their community."