Boyer Family helping RMH patients have Brighter Tomorrows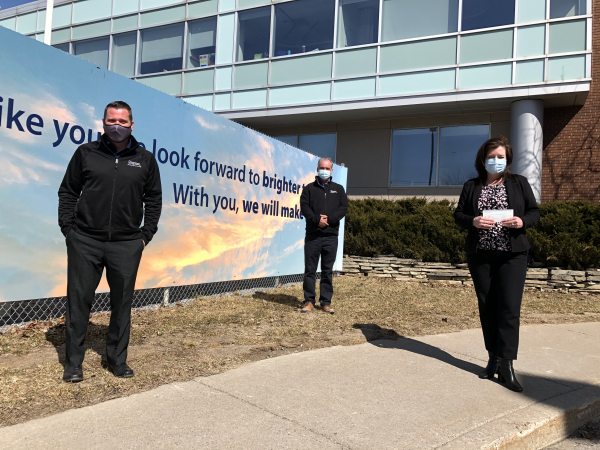 March 22, 2021 - The Boyer family knows that businesses and communities support each other and grow together. Over the past 40 years, as the Boyers have grown their group of auto dealerships, they've taken care to give back to the communities where they work and live by supporting local causes.
Today, Brandon Boyer and Joe Hotrum of Boyer Chevrolet Lindsay visited Ross Memorial Hospital to support exceptional care with a gift of $2,000 from the Boyer Family Charitable Fund. The donation will help the community purchase a new CT scanner with advanced capabilities.
Computerized Tomography (CT) scanning combines a series of images taken from various angles to create cross-sectional views of a patient's bones, blood vessels and soft tissues. The Ross Memorial's CT scanner allows radiologists to confidently diagnose disease and injuries, to provide precise direction for surgeries, and to guide cancer treatments.
At the Ross, the CT team conducts more than 12,000 scans every year.
"Supporting the community in which we operate has always been a top priority for my family," said Brandon Boyer. "We are so lucky to have such a great hospital right here in Lindsay, so we're happy to support in any way we can!"
"Our local business leaders keep our community strong in so many ways," said Erin Coons. "This gift from the Boyer Family Charitable Fund will impact patients of all ages, and help keep the best CT imaging right here at home."