Celebrating National Volunteer Week: WE ARE THE ROSS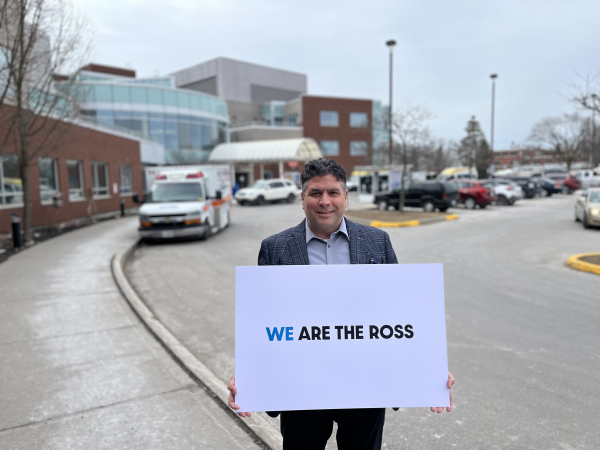 April 19, 2023 - Among the valued members of the Ross Team are our community volunteers on the Foundation's Board of Directors. The Board is responsible for the overall governance of the Foundation. Its members set the Foundation's strategic priorities and ensure they're met; they monitor the success of fundraising and stewardship efforts, and ensure financial resources are managed appropriately. In addition to monthly board meetings, members serve on various committees of the Board. They are valued members of the RMH Foundation family.
Mario Mazziotti joined the Board in 2022 to give back to the hospital that had done so much for his family.
The Ross has always been a big part of Mario's life; his mother and two sisters spent their nursing careers at the Ross Memorial. As a boy growing up in Lindsay, he remembers visiting his mom and sisters at the hospital. To this day, he drives by it and smiles thinking of the fun memories his mom created in there working with his sisters.
With an appreciation for the good living the hospital provided for his family, and an extensive financial background, Mario knew that he could contribute through a role on the Foundation Board.
"I do not have a great gift for science but I have strong understanding of finances so I thought I could share my experience with my peers and give back in a way I know will help. During my term with the RMH Foundation, I want to make the board a great place to be, I want to encourage other people to join when openings happen. Personally, I want the RMH to keep being a great hospital that the citizens of the City of Kawartha Lakes can depend on."
Asked what the phrase 'WE ARE THE ROSS' means to him, Mario said "It means we are one community working together to make everyone healthy and happy."
PHOTO: Mario Mazziotti was born and raised in Lindsay and currently resides in Omemee. He has a diverse financial background with 10 years credit experience at Wells Fargo Financial and 14 years at CIBC as Community General Manager overseeing, Lindsay, Fenelon, Coboconk and Bobcaygeon. He is now with IG Wealth Management.