Celebrating the Faces of Philanthropy - Remembering Sandra Jack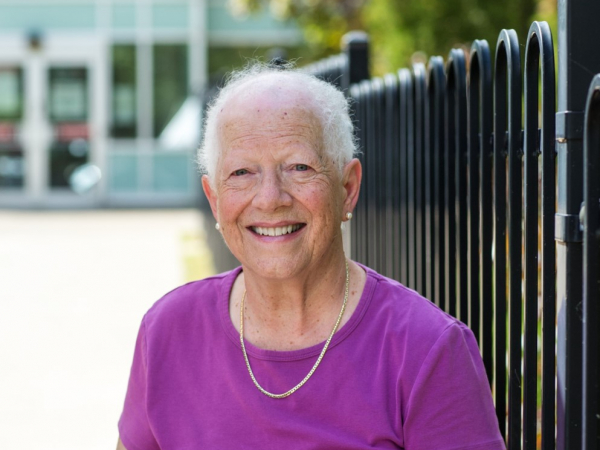 Sandra Jack spent her life making her community a better place. When she learned the Ross Memorial was implementing a clinical information system, she was quick to offer her help by sharing details of her own patient experience. Though she's no longer with us, the input Sandra generously provided in the final year of her life will help enhance patient care in our community for years to come. We're profoundly grateful for the time she gave us.
"I believe that patients, like their health care professionals, need access to their personal medical information in order to be involved in making informed decisions about their own treatment. This has not always been easy to do. While patient centered care has become the gold standard in medicine today, there are, unfortunately, remaining roadblocks that impede the ability of both patients and their health care teams to access medical information in a timely and holistic manner. This has the potential to negatively impact patient care.
I have found that any information currently available online to patients is slow and sometimes difficult to access. I have found it extremely frustrating at times. In order for patients to ask questions and have informed discussions about treatment options with their physicians they should be able to review relevant test reports, clinical records, etc. in advance of appointments.
As a patient with complex medical needs I have received treatment, diagnostic testing, etc. over the last few years in five different hospitals from numerous physicians and other health care professionals. I quickly learned not to expect that everyone involved in my care had access to all my medical records and that I had to assume the responsibility of filling in the gaps as needed and/or requested.
I can't begin to tell you how pleased I was to learn that Ross Memorial Hospital is launching Epic's clinical information system. I've been using MyChart, its patient portal, for a few years now in order to access my records at the Durham Regional Cancer Centre. It's an excellent system and easy to use. I can review my lab reports, diagnostic test results, doctors' clinical notes and appointments. I also use it to store personal information such as powers of attorney, advance directives, and even immunization records, e.g. COVID shots. It's a great system with no charge to patients to access it.
It also makes so much sense for the hospital to, from now on, purchase equipment that automatically sends results electronically to a patient's medical records. This saves hours of staff time entering the data manually and gives them more time to spend with you, the patient!
Bravo for being proactive about patient care RMH!!"
Sandra Jack wrote this patient testimonial for the RMH Foundation during the summer of 2021.
It is shared with her permission to continue the advancement of care at the Ross Memorial Hospital. Sadly, Sandra passed away on July 4, 2022.