Dragon Flies impact a generation with generosity and awareness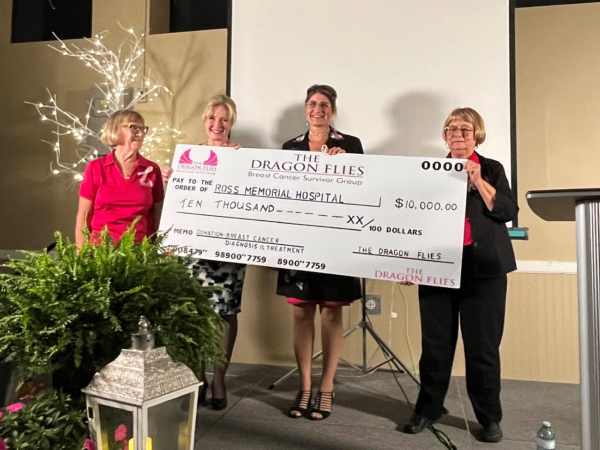 October 14, 2022 - Twenty years ago, the Dragon Flies Breast Cancer Survivor Group was formed to create a sisterhood of support for those who have received a breast cancer diagnosis and to raise awareness and funds to give patients their best chance to beat breast cancer.
In that time, the Dragon Flies and their community of friends have impacted a generation of local patients and their loved ones with funding for medical equipment and technology that helps diagnose and treat breast cancer at Ross Memorial Hospital.
At the Dragon Flies' Diva Night event at the Victoria Park Armoury on October 13, founding members Nancy Hanna and Jo-Anne Forson made a surprise presentation — a $10,000 donation to the Ross Memorial Hospital Foundation.
"In our first year, we held bake sales, sold chocolate, hosted dances, and we managed to raise $20,000 in two months," said Nancy Hanna. "In the past 20 years, we've been able to donate $1.5 million to four hospitals, including the Ross Memorial. We've gone from a group of 22 women to a broad organization that bonds communities."
RMH Vice President and Chief Operating Officer Veronica Nelson accepted the gift with Kim Coulter of the RMH Foundation. Veronica, who began her career at the Ross in the Diagnostic Imaging Department, understands well the impact of the Dragon Flies' generosity. "These donations help fund the imaging modalities that help us diagnose and treat breast cancer at the Ross. 3D mammography, Ultrasound, MRI … these are all 100% donor funded. We're so grateful to the Dragon Flies and all of the people who support their efforts."
Every month, approximately 460 people are screened for breast cancer at Ross Memorial Hospital. Of those, more than 100 require follow-up tests using a variety of imaging modalities. Most of these people need further investigation due to visible anomalies in their images or because changes were noted since their last exam. The other 30% are people who have found a lump or who are experiencing other symptoms.
With this gift, the Dragon Flies' cumulative donations to the RMH Foundation total $410,300. Through their efforts, the Dragon Flies have helped the Hospital to acquire the best diagnostic technology — including 3D Mammography and MRI — and to become an Accredited Breast Assessment Centre with a High Risk Breast Screening program, affiliated with Cancer Care Ontario.
PHOTO: Nancy Hanna, Kim Coulter, Veronica Nelson and Jo-Anne Forson hold Dragon Flies' big cheque at Diva Night