Eager to see new 3D Mammography, Dragon Flies bring gift of support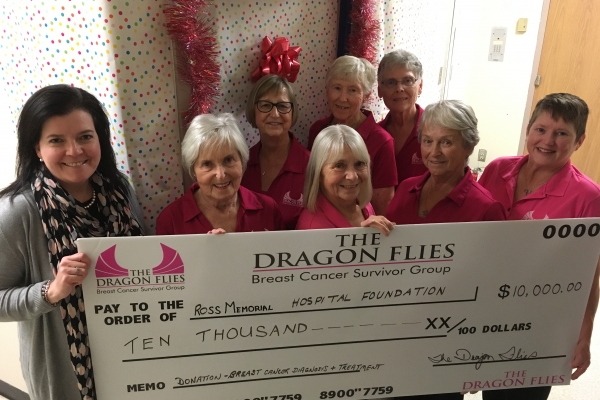 October 24, 2018 - The Dragon Flies Breast Cancer Survivor Group are eager to see the latest gift they've helped to bring to patients at the Ross Memorial Hospital.
Construction is still underway in the space that will house the new 3D mammography unit. Mammography services have been suspended until the new equipment is installed in the renovated space that will be larger and more accessible.
Today, the Dragon Flies gathered outside the Mammography room to show their support for the transformation taking place with the presentation of a cheque for $10,000.
"The Dragon Flies have been loyal supporters through every enhancement of our breast imaging technology at the Ross," said Erin Coons, RMH Foundation Executive Director. "Now we're just weeks away from launching our new 3D mammography unit, which wouldn't be possible without the ongoing generosity of donors such as the Dragon Flies. The gifts they've made to the Foundation are gifts to every patient and all of their loved ones. They touch the entire community."
Three-dimensional imaging helps physicians to view the breast in thin sections, enabling them to detect small cancers sooner and can pinpoint the exact size and location of a breast lesion. This new technology provides better visualization of dense breast tissue, and decreases the need to call patients back to get more images, which leads to further waiting and worry.
With this gift, the Dragon Flies' contributions to the RMH Foundation have reached $380,328.72! Their support has helped to purchase life saving equipment including a sentinel node machine, a mammoviewer, ultrasound and digital mammography equipment, and MRI breast imaging software.
PHOTO (left to right):
Erin Coons, Barbara Bain, Jane Graham, Sonja Parker, Dr. Gail Payne, Carol Wilson, Barbara Jones and Gail Kivisaari outside the RMH Mammography room, currently under construction due to the installation of new 3D Mammography technology.