Exceptional Support for Intensive Care: RMH Auxiliary presents 2017/18 Gift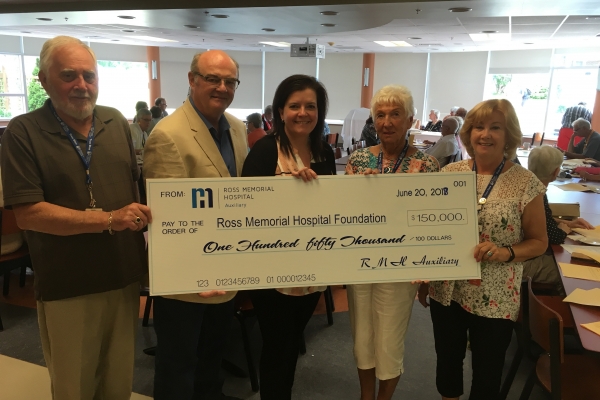 June 20, 2018 - Ross Memorial Hospital volunteers contribute to exceptional patient care in many ways.
Throughout the Hospital, their assistance on the frontline ensures patients and families are as comfortable as possible. Behind the scenes, their combined time and talent operates the Reflections Café and Gift Shop, schedules volunteers and volunteens, and participates in community events. They also touch patient lives through their fundraising efforts.
The Ross Memorial Hospital Auxiliary (RMHA) works tirelessly throughout the year. The money they raise from proceeds in the Café and Gift Shop, through lottery and tuck cart sales, Bingo and bake sales, raffles and vendors in the lobby, grocery bagging and Tag Day, enables the Auxiliary to provide urgently needed medical equipment and capital support for the Hospital.
At the Auxiliary's Annual General Meeting on June 19, RMHA Excellence Pin recipients Irene Deli and Dennis Roy joined the Auxiliary's Director of Fundraising Linda Danaher to present the Auxiliary's 2017/18 gift of $150,000 to the RMH Foundation. The funds are purchasing a ventilator and other equipment needed in the Intensive Care Unit.
"I encourage all volunteers at the Ross Memorial Hospital to look back at 2017/18 with pride," said Ward Levine, Auxiliary President. "Thanks to your hard work and dedication, we're celebrating another year of successful service to the Hospital through our involvement in patient care areas and fundraising initiatives."
"The volunteers at the Ross Memorial Hospital are the perfect example of what caring people can accomplish by coming together for a common goal," said Brian Kelsey, RMHF Board Chair. "On behalf of the Foundation's Board of Directors, thank you for every hour you've devoted to the patients at the Ross. Your hard work and generosity are sincerely appreciated."