FLATO Developments makes historic gift to RMH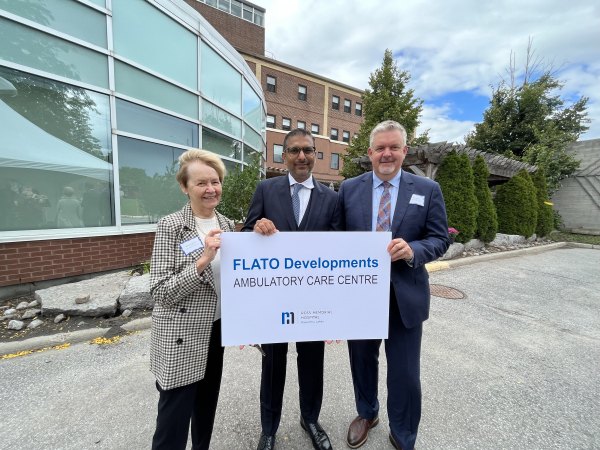 September 26, 2022 - As a builder of communities, FLATO Developments Incorporated owner Shakir Rehmatullah knows that all residents count on their local hospital. His vision for new neighbourhoods in the City of Kawartha Lakes includes a commitment to strengthen community services that support the health and wellness of all residents. Rehmatullah's vision of strong community includes a hospital that is equipped with the latest in medical advancements and modern facilities that grow with our population.
Today, the Ross Memorial Hospital Foundation invited local dignitaries and the local media to celebrate a landmark moment: FLATO Developments is making the largest donation in the hospital's history!
FLATO Developments' visionary gift of $3 million will support the digital transformation of patient care and enhancement of services at Ross Memorial Hospital to strengthen our community's health care future. RMH will dedicate the FLATO Developments Ambulatory Care Centre in recognition of this tremendous gift.
"A hospital is fundamental to any community, and we want to ensure that the people who live in this community have access to the right equipment and facilities to deliver the best care. We are proud to be supporting Ross Memorial Hospital in that mission," said Shakir Rehmatullah. "Supporting healthcare is close to my heart. I lost my father to cancer and it's his legacy and example that I keep in mind when it comes to giving back to the community. I am deeply committed to supporting a healthy and thriving community in the Kawartha Lakes."
New technologies and advances in medicine are modernizing the delivery of care at Ross Memorial with faster and safer diagnosis and treatment. These tools are ensuring our physicians and staff all have access to the clinical resources and patient records they need simultaneously. This digital transformation includes all new patient care equipment – such as the new CT scanner and MRI, which will be digitally connected, providing world class imaging and up-to-the-minute clinical information where and when the patient needs it.
"This historic investment will greatly benefit our community hospital by supporting advancements in connectivity and services that will help ensure we deliver the highest quality of care to all of our patients," said Kelly Isfan, RMH President and CEO. "Ross Memorial is thrilled to celebrate this record donation for our hospital with our newly named FLATO Developments Ambulatory Care Centre."
"Although we're still in the early stages of our campaign, we were thrilled to learn of Shakir Rehmattulah's interest in our Hospital's priority needs. Having met with Shakir several times over the last few months, I've witnessed how committed he is to growing strong communities and how much he values the availability of high-quality health care," said Tim Shauf, RMH Foundation Board Campaign Chair.

PHOTO: Wanda Percival (RMH Board Chair), Shakir Rehmatullah (FLATO CEO), Tim Shauf (RMH Foundation Campaign Chair)