FLATO Developments supports exceptional care in the community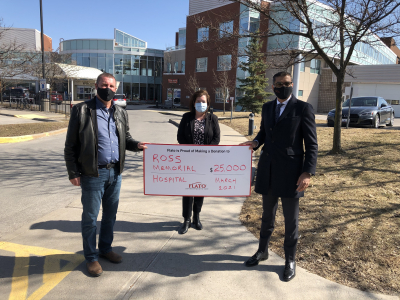 March 22, 2021 - The owner of FLATO Developments Incorporated, Shakir Rehmatullah, knows that to build communities it takes a strong commitment to community service. The FLATO team has plans to develop neighbourhoods in the Lindsay and Cameron areas. To make those neighbourhoods even better, Rehmatullah is enhancing local patient care with a gift to the Ross Memorial Hospital Foundation.
Today, Rehmatullah was joined by City of Kawartha Lakes Mayor Andy Letham outside Ross Memorial Hospital to present a $25,000 donation to Erin Coons, RMH Foundation CEO.
"Here at the Ross, we're committed to building the future of local healthcare and growing services close to home, and we're grateful to have community partners such as Shakir Rehmatullah," said Erin Coons. "This generous gift will support hospital needs including life-saving technology, patient care equipment and priority projects. We're pleased to welcome Shakir and his team at FLATO to the community — and to our donor family at the Ross."
"We recognize and value the importance of keeping our communities healthy and safe, which is why we're so excited to be supporting Ross Memorial Hospital," said Shakir Rehmatullah. "When we build communities, we support communities. In Kawartha Lakes, we look forward to continuing to partner with and support community organizations to achieve their goals that will make the community better for everyone."
"As our community continues to grow, we are investing in the services and infrastructure that our residents need to thrive. Access to health care is one of the top priorities. I can't say enough about the Ross Memorial Hospital and the outstanding service they provide to Kawartha Lakes residents. Many thanks to Shakir Rehmatullah for this gift," commented Andy Letham, City of Kawartha Lakes Mayor.
This is one of FLATO Developments Inc.'s first steps in supporting the residents of the Kawartha Lakes.