Gifts to Palliative Care Unit Pantry benefit Patients and Families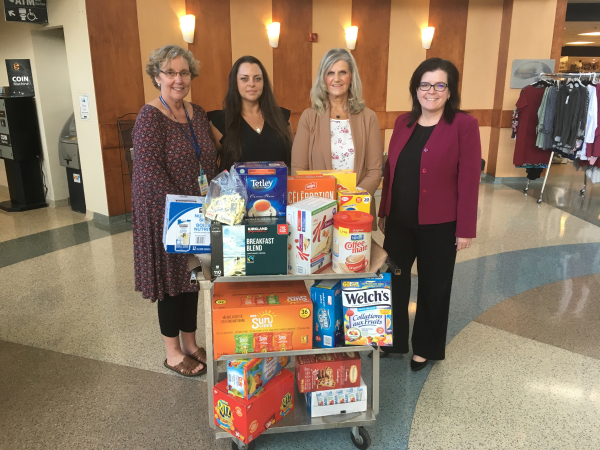 September 30, 2019 - In recent years, Marlene Dwight and her daughter, Shannon Smith, have lost two loved ones who lived their final days in the RMH Palliative Care Unit. They know from experience that when you don't know how much time a loved one has remaining, you don't want to leave their side.
It is those experiences, and their profound thanks for the food and beverages stocked in the Palliative Care Unit pantry, that inspired them to give back — with groceries.
On September 26, Marlene and Shannon brought a range of individually packed snacks and drinks to help stock the pantry that is available to the families and friends of patients.
For three years, the ladies have made this gift to the Ross Memorial Hospital part of the tribute they plan for their loved ones, William Dwight and Darryl Smith.
The gift was received by Erin Bruce, Manager of the Continuing Care Program and Dialysis Unit, and Erin Coons, RMH Foundation CEO.
"How kind of this family to make giving an ongoing part of the way they honour their loved ones' memory," said Erin Coons. "The thought that they put into their selections shows how much they care about families' experiences during difficult times. That's greatly appreciated by the patients and families, and also by the staff in the Palliative Care Unit."