Homestead Oxygen & Medical Equipment cares about community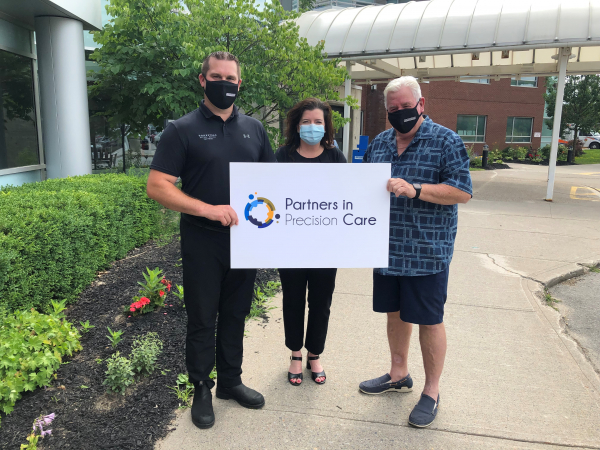 July 14, 2021 - The team at Homestead Oxygen & Medical Equipment (HOME) has been keenly focused on the health of the community since 1997. Through its many services, HOME helps people live at home safely and comfortably. And through its partnerships and philanthropy, the team shows that a healthy community is more than good business — it's a concept embraced by all.
HOME's caring values were on display on July 13 as owner Kelly Parker and vice president operations Geoff Patton made a generous donation to support the purchase of a new CT Scanner for the community. Erin Coons, RMH Foundation CEO, was honoured to accept their cheque for $2,500 for the Partners in Precision Care appeal.
"The business leaders at Homestead Oxygen and Medical Equipment know that we all play a role to make our community healthier and stronger. The importance they put on their corporate values, their partnerships and local philanthropy inspire others to care and to support the future of health care. On behalf of the Ross team, our physicians and patients, we thank them for their generosity."
CT imaging is a critical tool for diagnosing injuries and disease, and for guiding surgeries and cancer treatments. At the Ross, the CT team conducts more than 12,000 scans every year.