Kawartha Credit Union celebrates arrival of 3D Mammography at RMH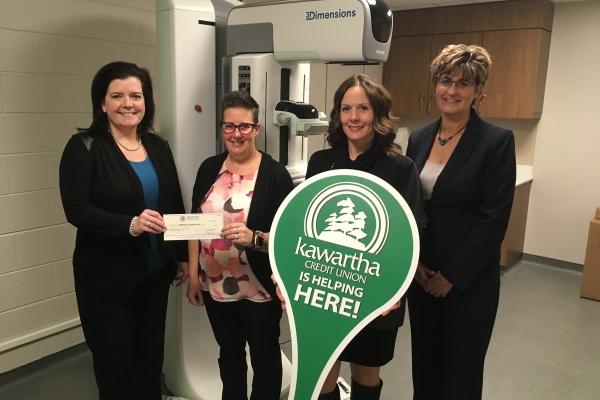 November 15, 2018 - The team at Kawartha Credit Union's Lindsay Branch is excited to see the Ross Memorial Hospital's new 3D Mammogram — a vital piece of medical technology purchased entirely through the generous support of donors like KCU.
On November 15, National Philanthropy Day, Michelle Finley, Kawartha Credit Union's Lindsay Branch Manager, and Jenn Bianco, Member Service Representative visited RMH to present a cheque for $1,200 to Erin Coons, Executive Director of the RMH Foundation. They were joined by Veronica Nelson, who is a Vice President at the Ross Memorial, and Chair of the Kawartha Credit Union Board of Directors.
"At Kawartha Credit Union in Lindsay, we raise funds every October through our annual silent auction with items generously donated by local merchants, and combine that with all our book sale money for the month and make a donation to the RMH Foundation for the Breast Assessment Centre," said Jenn Bianco. "We're so excited to be able to present a cheque in the amount of $1,200. This is our biggest fundraising amount yet!"
Mammography is the most reliable way to detect breast cancer. Every day at the Ross, our team screens approximately 30 women. 3D imaging, also called tomosynthesis, helps physicians to view the breast in thin sections. It helps to detect small cancers sooner and can pinpoint the exact size and location of a breast lesion.
"The Kawartha Credit Union team has been committed to this important purchase for several years now," said Erin Coons. "With their support, and with help from so many individuals, businesses and organizations, we've been able to bring this life-saving technology to the community. The Ross Memorial's new mammogram is 100% donor funded!"