Kawartha Credit Union encourages support for breast cancer care at RMH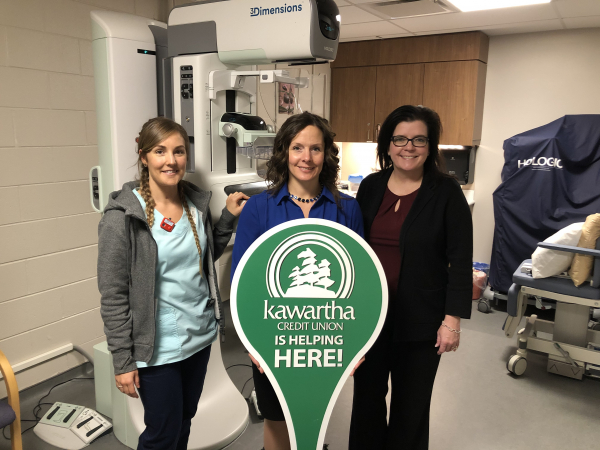 November 14, 2019 - Supporting the wellbeing of the community it serves is a guiding principle at Kawartha Credit Union. Part of the way the organization gives back is by inspiring employees to fundraise for causes that are close to their hearts.
Access to the best breast cancer care is a priority for the KCU team. KCU has provided generous support for enhancements to the Ross Memorial's Breast Assessment Centre, including the recent acquisition of 3D mammography with biopsy capability. During the month of October, which is Breast Cancer Awareness Month, employees host fundraising events including a silent auction, book sale and charity spin class, to encourage support for breast cancer care at RMH.
Today, Michelle Finley, Kawartha Credit Union's Lindsay Branch Manager visited the RMH Mammography Department to present a cheque for $1,136.20 to Erin Coons, RMH Foundation CEO and Dianne Robia, RMH Interim Breast Health Navigator.
"Thanks to the support of people like the team at Kawartha Credit Union, this advanced mammography technology is 100% donor funded," said Erin Coons. "As many as 30 women and men are screened for breast cancer every single day at the Ross because our community cares. The KCU team is a wonderful example of how businesses touch their clients' lives by making their communities healthier places to live."
Mammography is the most reliable way to detect breast cancer. 3D imaging, also called tomosynthesis, helps physicians to view the breast in thin sections. It helps to detect small cancers sooner and can pinpoint the exact size and location of a breast lesion.