Kawartha Credit Union supports local breast health care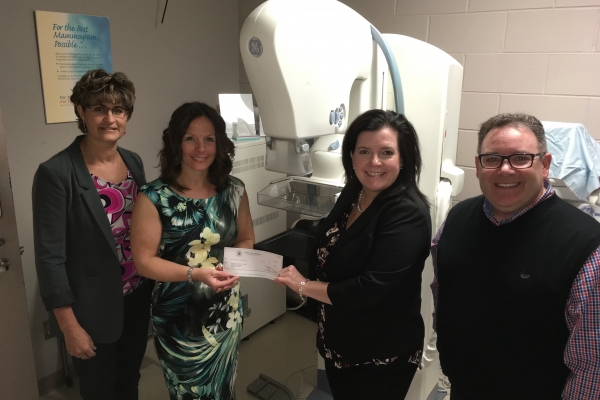 May 25, 2018 - The Ross Memorial Hospital Foundation is thankful for the support of the Kawartha Credit Union and its Community Involvement Program.
Today, Michelle Finley and Kreg McKenzie, Kawartha Credit Union's Lindsay and Little Britain Branch Managers, visited RMH to present a cheque for $5,000 to Erin Coons, Executive Director of the RMH Foundation. They were joined by Veronica Nelson, who is a Vice President at the Ross Memorial, and Chair of the Kawartha Credit Union Board of Directors.
The Kawartha Credit Union gift will contribute toward the cost of a new 3D Mammography unit with biopsy capabilities. 3D imaging helps physicians to view the breast in thin sections, to better detect small cancers and pinpoint the exact size and location of a breast lesion. The installation of the new mammography equipment is part of a redevelopment project taking place this summer in the Diagnostic Imaging department at RMH.
"We're so grateful to have the support of the Kawartha Credit Union branches in Lindsay and Little Britain," said Erin Coons. "Through their Community Involvement Program, they are giving those with breast cancer their best chance for a good outcome, and giving their loved ones reason to hope."