Lindsay Cycle Studio encourages support for breast cancer care at RMH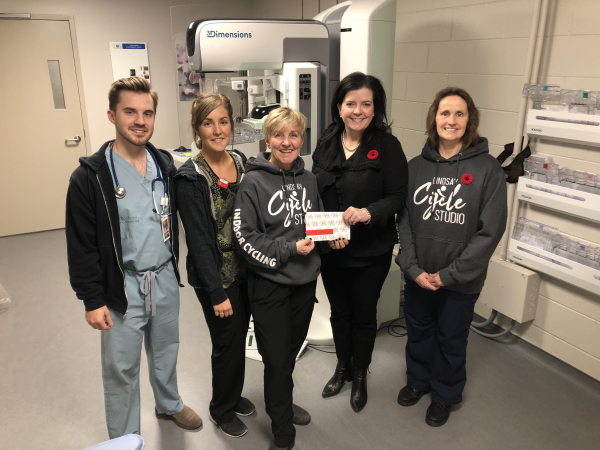 November 8, 2019 - Josette Deuchars believes in giving back to her community. Each month, she supports a different cause with special spin events at the Lindsay Cycle Studio. In October, Josette hosted four such classes, each supporting breast cancer imaging at Ross Memorial Hospital.
"We had the Muskie Monday plus the other Wednesdays were a mix of new and regular riders who wanted to participate. Kawartha Credit Union did a ride as well. All together, we raised $415 to help patients at the Ross," said Josette Deuchars.
Today, Josette presented the donation to Erin Coons, RMH Foundation CEO and Dianne Robia, Interim Breast Health Navigator in the RMH Mammography Department. Joining Josette were her son and student nurse at RMH, Sebastien Deuchars, and Patsy McCabe, RMH Environmental Services employee and Lindsay Cycle Studio rider.
"Josette is such an inspiration, for her boundless energy and her commitment to local philanthropy," said Erin Coons. "Every time she commits to a cause, she creates a ripple effect of local support. And every gift makes a difference to patients at the Ross."
Thanks to donors' support, the Ross Memorial Hospital's breast health services now include Tomosynthesis (3D imaging that helps to pinpoint the exact size and location of breast lesions) and stereotactic biopsies. Ross Memorial is the first site in Ontario to use the SmartCurve Breast Stabilization System, which features curved paddles and processing algorithms to ensure a more comfortable experience for our patients.
Every day at the Ross, the RMH team screens approximately 30 women.