Lindsay Legion Poppy Campaign supports Mammography at RMH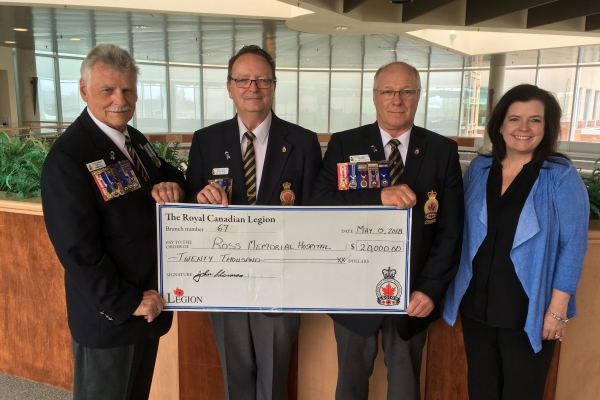 May 15, 2018 - Did you know that when you give a member of the Royal Canadian Legion a donation in exchange for a poppy, you're not only showing respect for those who served our country, you're also giving back to your community?
The members of the Royal Canadian Legion's Branch 67 in Lindsay direct poppy funds where they believe they're needed most. This year, the Ross Memorial Hospital Foundation is grateful to receive a donation to be directed to the purchase of a 3D mammography unit with biopsy capabilities.
Today, Howie Johnston (Branch 67 President), James Cameron (Service Chair) and John Sherman (Poppy Chair) presented a cheque for $20,000 to Foundation Executive Director Erin Coons.
"The community gives to us and we give back to the community," said Howie Johnston.
"Thanks to the generosity of the Lindsay Legion, we're even closer to meeting our goal to purchase the new 3D mammography unit for the Diagnostic Imaging department," said Erin Coons. "When added to other gifts made by individuals and organizations passionate about breast imaging, we've now raised $318,000 toward the cost of the new mammography unit."
The purchase of the new mammography unit is part of a Diagnostic Imaging redevelopment project beginning at Ross Memorial Hospital this month. Enhancements in the area include the replacement of X-ray equipment and renovations to several rooms.
The Royal Canadian Legion Branch 67 has been a generous supporter of patient care at Ross Memorial Hospital, supporting equipment needs including anaesthesia machines, pain pumps, MRI and the CT Scanner and cystoscope equipment. The Lindsay Legion's cumulative giving totals $154,602.