Local paramedics planning colourful show of support for breast cancer care at RMH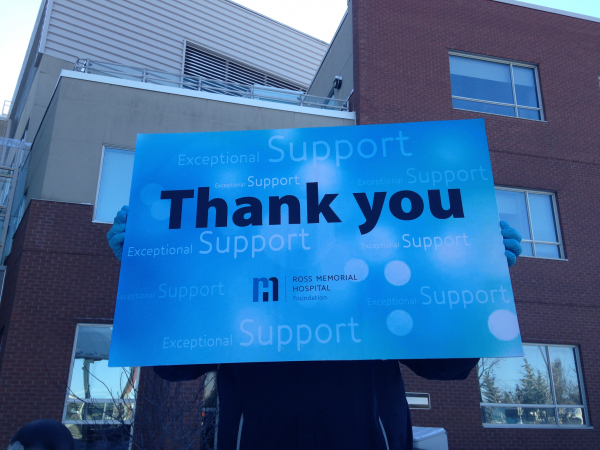 September 16, 2019 - Kawartha Lakes Paramedics carry a lot of responsibility on their shoulders. This October, they will do even more to ensure local patients receive the best care.
The Kawartha Lakes Paramedic Service is launching the Breast Cancer Pink Epaulette Campaign during Breast Cancer Awareness Month in October to support the diagnosis and treatment of breast cancer at Ross Memorial Hospital.
Paramedics will purchase pink epaulettes to be worn on their uniform shirts and jackets during the month of October. Proceeds will support the RMH Diagnostic Imaging Breast Health program, and raise awareness of the importance of cancer screening.
Paramedic Francine Scott initiated the Pink Epaulette Campaign. "We often view ourselves as the helpers, and not the ones requiring the help, so when one of our own, Autumn Campbell, was diagnosed last year with breast cancer, it reminded all of us that we often forget how we are vulnerable."
Autumn is touched by and finds strength in her team's support. "They say that when one person in a family is diagnosed with cancer, the entire family and everyone that loves that person also has cancer — and I found that to be true. When I was diagnosed with cancer the support, love and care that I received from not only my family but my work family — my 'blue family' — was amazing. The support I received was one of the things that helped me through some of the harder days."
"With this show of support, the paramedics will be able to spark conversations with people throughout the area and remind them that cancer screening saves lives," said Erin Coons, RMH Foundation CEO. "The Kawartha Lakes Paramedics' fundraiser, and the donations they inspire, will also help to save lives by supporting the cost of imaging technology that detects cancer as early as possible. Once again, our local paramedics show they are true partners in patient care."
Those wishing to support the Pink Epaulette Campaign with a donation may contact the RMH Foundation at 704-328-6146, email foundation@rmh.org or donate online at www.rmh.org/foundation.