Paramedics' pink epaulettes spark support for breast cancer care at RMH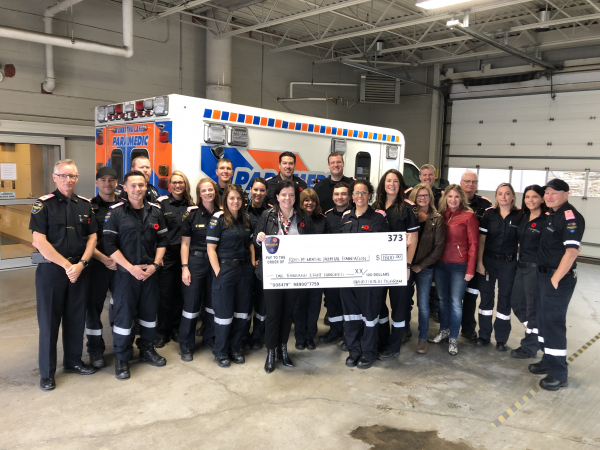 October 31, 2019 - Kawartha Lakes Paramedics are valued partners of the Ross Memorial Hospital team, ensuring patients receive timely care when they're sick or hurt. They also recognize that life-saving care includes access to medical tools and technology that help to detect, diagnose and treat patients' health conditions.
When a member of their 'blue' family was diagnosed with breast cancer, the Kawartha Lakes Paramedic Service showed support throughout her patient journey. During Breast Cancer Awareness month, they shouldered an even greater role through their Pink Epaulette Campaign.
Paramedics purchased pink epaulettes to be worn on their uniform shirts and jackets during the month of October, encouraging support for the Ross Memorial's Diagnostic Imaging Breast Health program.
Today, Paramedics gathered at RMH to present a donation of $1,800 to Erin Coons, RMH Foundation CEO.
"Like so many people in the City of Kawartha Lakes, we're touched by this show of support by the Paramedics," said Erin Coons. "By raising awareness of the importance of cancer screening and supporting the diagnostic tools that help doctors to diagnose and treat breast cancer as early as possible, the Paramedics are taking their role as community health heroes to a new level. We're so grateful for their support."
"It was a real pleasure to wear our pink epaulettes this month and raise funds for RMH's diagnostic tools and breast cancer program. Our team had overwhelmingly positive responses and conversations with the public around the importance of breast cancer screening," commented Francine Scott, Paramedic, City of Kawartha Lakes. "Thank you to all my fellow paramedics who took part, the public for showing their support and to RMH for all that they do."