Riverwood Camping Resort gift supports cancer services at RMH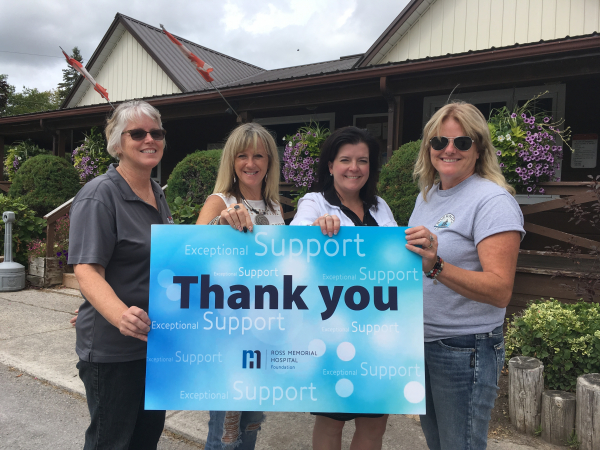 September 3, 2019 - The Riverwood Camping Resort is a caring community located on the shores of the Scugog River south of Lindsay. It's been family owned and operated for more than 50 years with campers who return season after season. Together, the campers look out for each other — and for their community.
Today, Riverwood owners Penny Wagstaff and Sue Lockhart and employee Teresa Brasier presented a cheque for $3,520 to Erin Coons, RMH Foundation CEO, to support cancer services at the Ross Memorial Hospital.
"The funds were raised through a silent auction on August 10th," said Penny. "We had so many campers who really got behind it. They're happy to support the hospital and its cancer services that impact so many people."
"We're thrilled to accept this gift from the folks at Riverwood Camping Resort," said Erin Coons. "The campers may not live here full time, but they understand the importance of having a full service hospital nearby. Their generosity will enhance cancer services including diagnostic imaging, cancer screening and surgical procedures and give patients their best chance to beat cancer."