RMH Auxiliary annual efforts culminate with generous gift to the RMH Foundation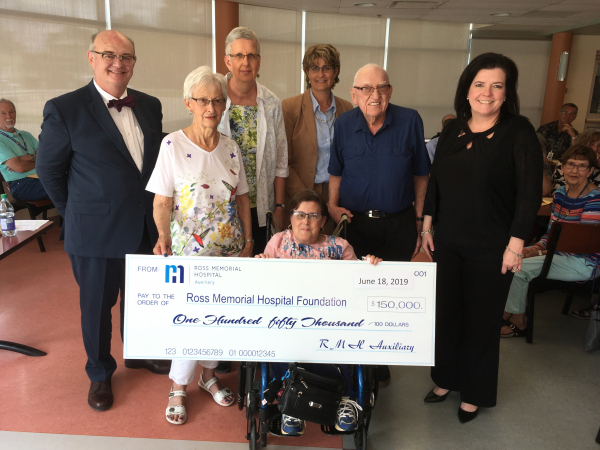 June 24, 2019 - Ross Memorial Hospital volunteers work diligently year round to enhance patient care and to raise funds for medical equipment and capital projects through their gifts to the RMH Foundation. Each year in June, the volunteers gather to hear the highlights of their service and celebrate their accomplishments at the Auxiliary Annual General Meeting.
On June 18, volunteers in attendance learned that the Auxiliary contributed an incredible 15,905 hours of service over the past year.
Their contribution to the Ross Memorial through their annual gift to the Foundation was equally incredible!
Volunteers Heather Chapell, Eileen Cockburn, Dineke Braches and Ken Trodd were given the honour of presenting the Auxiliary's gift of $150,000 to Foundation Board Chair Brian Kelsey and Foundation CEO Erin Coons. The funds are supporting the purchase of Automated Dispensing Units for the Dialysis Unit and the OR Recovery Room, as well as cardiac monitors.
Automated Dispensing Units (ADU) are a key component to the Hospital's medication safety system, ensuring medications are secured and may only be dispensed to the right patient at the right dose.
"This is exceptional support for exceptional care – and even more so when you consider that these funds are raised a dollar at a time," said Brian Kelsey. "With every cookie and coffee, every get well card and baby toy, every lottery ticket and bingo game – it adds up to something wonderful. On behalf of the Foundation's Board of Directors, thank you for your service and your generosity. You're the reason we say donors make the difference."