RMH Retiree republishes late mother's book to benefit patients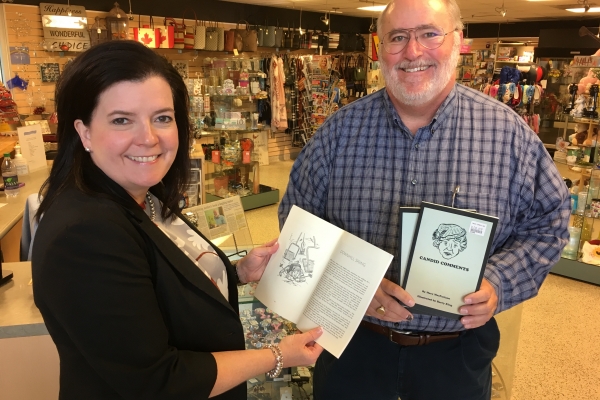 September 24, 2018 - Mary MacFarlane first published Candid Comments, a collection of witty and satirical essays, in 1995. Mary grew up in Toronto during the Great Depression. While she left school early to help support her family, she was a lifelong learner. Her studies included business, sociology and gerontology. Mary's early work as a reporter with the Globe and Mail inspired a passion for writing and community involvement which continued when she retired to the Cobourg area. Finding the humour in issues of aging and life in the country, Mary's storytelling kept her young at heart. She lived to be 100 years old.
After she passed, her son Malcolm (Mac) republished the book to honour her memory and to raise funds for Ross Memorial Hospital, where he helped a generation of patients improve their mental health. On September 20th, Malcolm presented a cheque for $500 to Erin Coons, RMH Foundation Executive Director.
"The process of republishing Mom's book has been healing for me," said Mac. "When you're dealing with grief and loss, it helps to invest your energy in a feel-good way. Promoting her memory and focusing on her humour has helped me to do that. And knowing that her work is contributing to patient care at the Hospital just makes it better."
Candid Comments is available in the Reflections Gift Shop at Ross Memorial Hospital, the Kent Book Store in Lindsay and in e-book format from Amazon.