Scotiabank is committed to care at RMH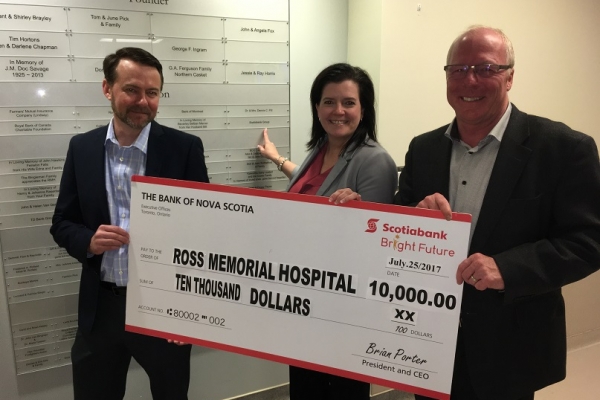 July 25, 2017 - Scotiabank takes its corporate social responsibility seriously. Among its five strategic CSR commitments is community.
Today, representatives of Scotiabank marked its ongoing investment in the local community with a special visit to Ross Memorial Hospital.
Branch Manager Greg Clements and Professionals and Healthcare Specialist Todd Robertson presented Scotiabank's fourth pledge payment for the Imagine the Future campaign, which raised $5.8 million to purchase the new MRI, a 128-slice CT scanner, and redevelop the Hospital's Diagnostic Imaging department. Scotiabank committed to a 5 year pledge totaling $50,000 to contribute to local healthcare.
With the Scotiabank gift of $10,000 today, its cumulative giving to the Ross Memorial Hospital Foundation since 1996 reaches $150,500.00.
"Scotiabank is committed to the health of this community," said Erin Coons, Executive Director of the RMH Foundation. "Their gift to the Imagine the Future campaign impacts local patients every single day. That's a positive long term investment."