St. Thomas Aquinas Students support wellness with gift for patient care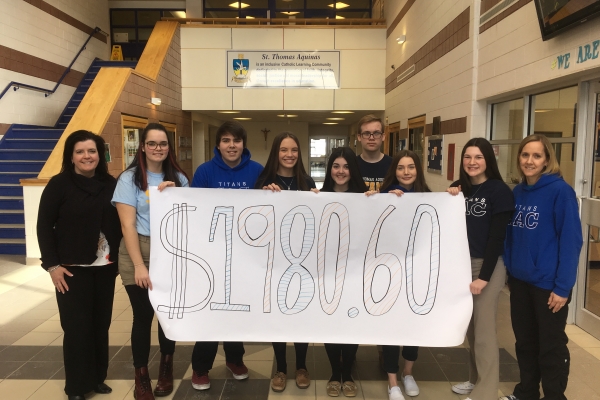 March 7, 2019 - Students at St. Thomas Aquinas Catholic Secondary School in Lindsay value wellness, within their family of students and teachers, and in their community. Their annual Week of Wellness activities in the fall included sessions with therapy dogs, meditation, dancing, drumming and art. They even incorporated a 5km run/walk to emphasize the benefits of exercise on our mental health and to fundraise for the Ross Memorial Hospital Foundation.
On March 6, the St. Thomas Aquinas Student Administrative Council, along with Staff Adviser Mary Kennedy, presented the school's donation of $1980.60 to Erin Coons, RMH Foundation Executive Director.
"The students at St. Thomas Aquinas really bring the school's mission, 'Learning, Leadership and Service,' to life," said Erin Coons. "Their commitment to wellness, at school, at home, and in the community, touches countless people in need. We're so grateful to have their support."