Teriyaki Town owners support RMH Foundation with Tales of Hope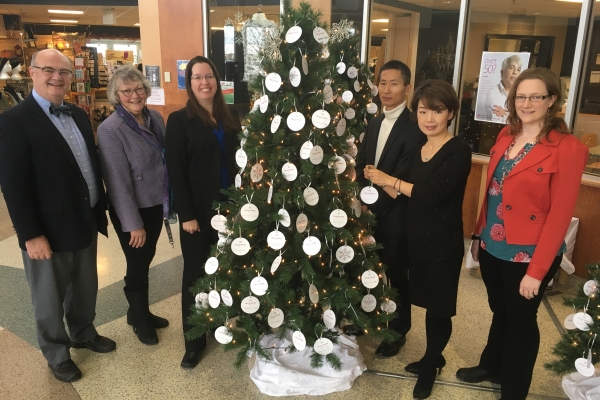 December 21, 2017 - In the spirit of holiday giving, the owners of Teriyaki Town visited Ross Memorial Hospital to present a special gift.
Since 2014, Angie Kim and Isaac Jeon have encouraged patrons to support the RMH Foundation. With each restaurant gift card sold, Teriyaki Town donates 10% of the value to the RMH Foundation.
Today, Angie and Isaac presented a cheque for $1000 to Foundation Board members Brian Kelsey, Heather Richardson and Jane Angelo, and RMHF Development Officer Karen Scott — all of whom are regulars at the restaurant.
The donation is being directed to the Tales of Hope Holiday Appeal, which is raising funds to help purchase a new 3D mammography unit with biopsy capabilities.
"The kindness Angie and Isaac extend to their patrons is mirrored in their commitment to support patient care at the hospital," said Brian Kelsey, Foundation Board Chair. "With this gift to the Holiday Appeal, they're helping to enhance the hospital team's ability to detect and treat breast cancer. They're giving a lot of patients a special gift."