The Victoria West District Women's Institute is Here to Help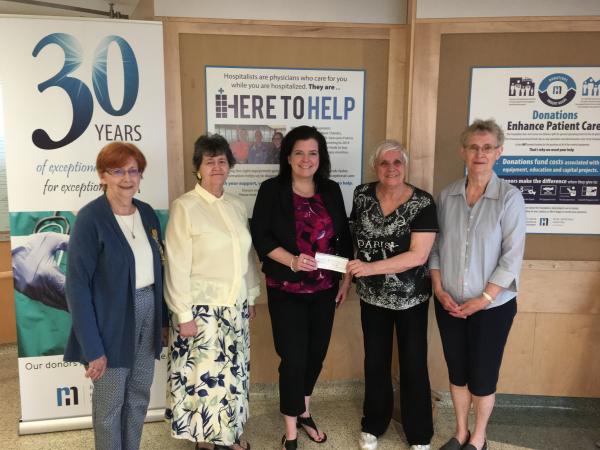 June 25, 2019 - Throughout the history of the Ross Memorial Hospital, local Women's Institutes have been impacting patient care through their focused efforts to improve the health and safety of their communities.
On June 24, members of the Victoria West District Women's Institute made a donation to the Here to Help Spring Appeal with funds raised through its annual craft sale. Marilyn Graves, Sharon DuBeau, Sharon Smart (President) and Beryl Connell presented a cheque for $200 to Erin Coons, Foundation CEO.
The Here to Help Spring Appeal will help to purchase:
a new blood gas analyzer for the Laboratory to test the acid-base (pH) status, oxygen saturation and carbon dioxide content of our patients' blood,
a replacement carbon dioxide monitor for the Intensive Care Unit,
new portable vital signs monitors for use on the Medical and Surgical Units,
a replacement transport monitor for use when patients are being transferred by ambulance to other hospitals, and
a new Optiflow oxygen delivery machine to help patients breathe easier using positive air pressure.
"This gift from the Victoria West District Women's Institute puts us even closer to our fundraising goal of $107,650.00 to purchase this essential equipment for the Hospital," said Erin Coons. "We're so grateful for the ongoing support of the local Women's Institutes. In every area of the Hospital, their generosity is evident. They really are Here to Help."