Therese Scheer & Friends' fundraisers exceed $150,000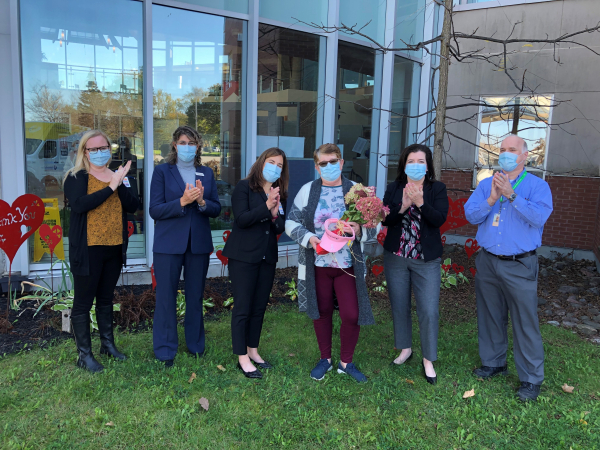 October 20, 2021 - Therese Scheer has felt the loss of a loved one to breast cancer. It's one of the emotions that drives her passion to raise funds for breast cancer care at Ross Memorial Hospital. Thanks to that commitment, and Therese's ability to inspire others to get involved, she has also witnessed how good people can impact patient care through a good cause.
Since 2007, Therese has organized and inspired golf events, raffles, fashion shows and Christmas ornament sales – all to improve local patients' access to the best breast imaging at Ross Memorial Hospital. Therese's energy is contagious and with the help of her friends, and their friends, together they have raised $150,000 for the Ross Memorial Hospital Foundation!
"What began as one woman's effort to improve the breast imaging technology at the Ross has experienced a groundswell of support throughout the City of Kawartha Lakes," said Erin Coons, RMH Foundation CEO. "Therese is a catalyst for this important cause and there is no doubt that Therese and her fundraising friends have helped the Hospital to acquire the imaging technology required to be a fully accredited Breast Assessment Centre affiliated with Cancer Care Ontario. They have truly touched lives."
To recognize Therese's ongoing efforts and show their thanks, members of the RMH Hospital and Foundation team presented Therese with a golf visor that reflects her 'Scheer Energy'.
"Ross Memorial Hospital is extremely grateful for the remarkable efforts of Therese Scheer and her fellow donors," said Kelly Isfan, Ross Memorial Hospital CEO. "The $150,000 raised for our hospital is a tremendous accomplishment and a testament to the character of Therese and charitable goodwill within our community. These funds will help ensure our hospital has access to the best equipment available so that we can continue to provide exceptional care to everyone who seeks treatment at the Ross."
Many thanks to Therese and her many helpers at the local golf courses that have hosted her fundraising events, and to those who, during the pandemic, have seen Therese on the links and have made donations because they share her passion for patient care. The Ross Memorial Hospital would not have a world class imaging department without the support of its donor family. Donors make the difference.
Photo: Jill Petersen, Veronica Nelson, Kelly Isfan, Therese Scheer, Erin Coons, William Kellett