Volunteer Board Member brings IG Wealth Management support to RMH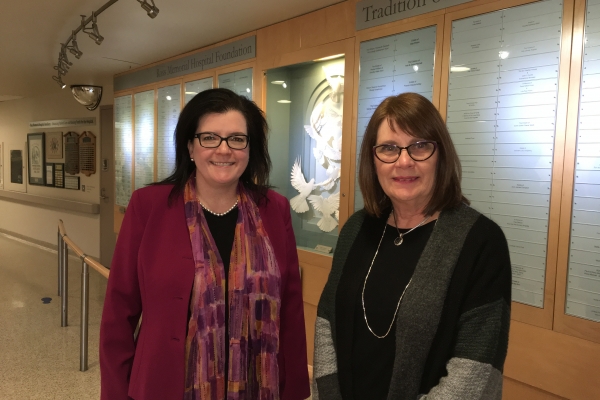 January 17, 2019 - Community involvement is a corporate priority at IG Wealth Management. As a caring community partner, the company's goals include providing financial support to communities where its people live and work, and encourage and support its people in giving back to those communities.
Val Harris has been putting that commitment into action through the company's Volunteer Support Program for several years. Recently retired from IG Wealth Management, Val has also been a volunteer member of the Ross Memorial Hospital's Board of Governors since 2009. The Board of Governors is responsible for the overall governance of the Hospital, setting strategic priorities and ensuring they're met, assessing quality of care, and ensuring financial resources are managed appropriately.
Val's service to the Hospital over the past year was recognized by IG Wealth Management with a grant for the RMH Foundation in the amount of $1,750. This brings the cumulative total of the Volunteer Service Program grants based on Val's volunteer hours to $6,450.
"We're so grateful to Val for her efforts on behalf of the Hospital, and for applying for this special grant from IG Wealth Management over the years," said Erin Coons, RMH Foundation Executive Director. "The Volunteer Support Program is truly a win-win initiative. It encourages meaningful community involvement by its team members, and further supports community organizations through donations. Philanthropic teams such as IG Wealth Management produce a happy ripple effect!"