Where there's a need, there's the RMH Auxiliary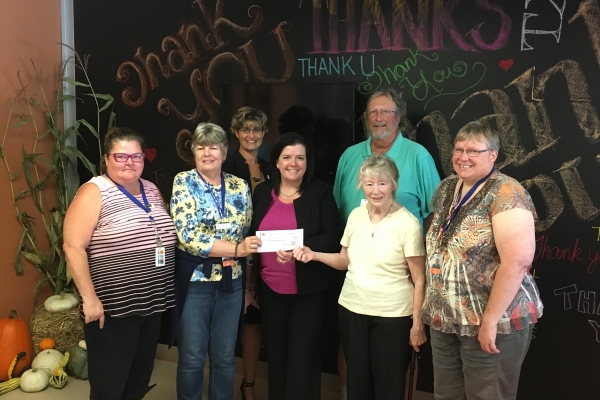 September 18, 2018 - Volunteers at the Ross Memorial Hospital are driven by a common goal: they want to help.
The ways in which they help would make a very long list. However, the themes are captured in the Auxiliary's two pillars: service and fundraising.
Thanks to the volunteers' hard work and dedication, the Auxiliary is in the fortunate position to make a special gift — over and above the $150,000 donation made at its Annual General Meeting in June.
At a special Auxiliary meeting today, volunteers Marie Young, Trish Jordan, Deborah Cormier and Arlene White presented a cheque for $105,000 to Erin Coons, RMH Foundation Executive Director and Veronica Nelson, RMH Vice President Diagnostics, Procurement and Special Projects, to support the costs associated with urgent needs at the Hospital.
"We're profoundly grateful for our volunteers' assistance — both day to day as they enhance our patients' experience in hospital — and on days like today when they help us to bridge the gap between hospital funding and urgent equipment needs," said Veronica Nelson. "This special gift will help us to immediately purchase new physiotherapy equipment for patients following hip and knee replacement surgery; replace a call bell responder system and an ice machine in our inpatient units. The Auxiliary's generous support will also enable the Hospital to address a number of other capital equipment needs that have arisen unexpectedly this year."
"The Auxiliary is very lucky to have, at its core, the 260 adult and teen volunteers who have contributed over 25,000 hours this past year to support the patients, family, friends and operations of the Ross," said Ward Levine, Auxiliary President. "We are proud to be Part of the Team."
"We couldn't be more grateful to our partners in the Ross Memorial Hospital Auxiliary," said Erin Coons. "The volunteers' commitment to the patients and the team at the Ross has been inspiring others to play a role in patient care for so long. We just couldn't imagine the Ross without them. Where there's a need, there's the Auxiliary."