With support for Spring Appeal local golfers show RMH Foundation they are Here to Help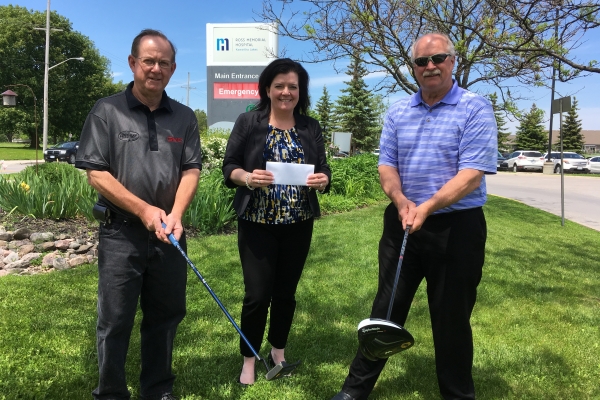 June 12, 2019 - The annual John Lindsay Memorial golf tournament is not only a sign of spring, it is a sign of generosity, commitment and friendship. It's been 16 years since friends of John Lindsay took on his friendly fundraising golf tournament — an event John Lindsay started in 1975. In April, 36 golfers hit the greens to enjoy good company, and to raise funds for the Here to Help Spring Appeal.
Today, tournament organizers Greg Welton and Les Fowler presented a cheque for $2,330 to Erin Coons, RMH Foundation CEO.
"Golfers know that having the right club at the right time is the key to playing a good game. I'm sure they appreciate the importance of having the right equipment and technology when it comes to the delivery of patient care," said Erin Coons. "This gift is a significant step toward meeting our fundraising goal of $107,650."
The Here to Help Spring Appeal will help to purchase:
· a new blood gas analyzer for the Laboratory to test the acid-base (pH) status, oxygen saturation and carbon dioxide content of our patients' blood,
· a replacement carbon dioxide monitor for the Intensive Care Unit,
· new portable vital signs monitors for use on the Medical and Surgical Units,
· a replacement transport monitor for use when patients are being transferred by ambulance to other hospitals, and
· a new Optiflow oxygen delivery machine to help patients breathe easier using positive air pressure.
The Spring Appeal letter was mailed to every household in the City of Kawartha Lakes in early May. The Foundation encourages individuals, businesses and service organizations to make a gift to the Appeal and show the Hospital team that they, too, are Here to Help.