Young hockey players build philanthropy skills with support for palliative care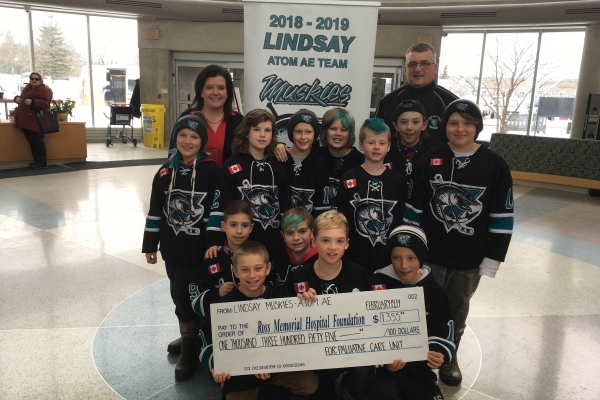 February 15 - The members of the Lindsay Muskies Atom AE hockey team are always looking to enhance their skills. And they know that coming together as a team includes honing their talents as good citizens.
Having learned of a teammate's grandfather's time in the Palliative Care Unit at Ross Memorial Hospital, the Muskies were inspired to hear how the Ross became their friend's second home until his grandfather's passing.
"We would sometimes visit twice a day," said Cheryl Baxter, team mom. "The floor and the staff became a part of our family and the care my dad received was beyond anything our family had ever thought of. We had no idea how accommodating to families the hospital could be. My children were very at ease visiting their Grampa. There was nothing scary about being there."
As a team, the Muskies adopted the Palliative Care Unit as their cause to support.
The team worked together going door to door collecting bottles and donations. They shoveled driveways, piled wood and brought in garbage and recycling bins. A teammate's family set up a Facebook page to encourage donations from family and friends. They were also celebrity servers at Boston Pizza, working with the servers to encourage patrons to donate their receipts for a portion of their meal to be donated to support palliative care. Their efforts during the month of January raised $1355.
The Muskies gathered at the Ross Memorial to present their donation to the RMH Foundation on February 14.
"How appropriate that the Muskies are here with their hard-earned gift to the Palliative Care Unit on Valentine's Day," said Erin Coons, RMH Foundation Executive Director. "They've shown real heart."
The Lindsay Muskies Atom AE team is currently participating in the Ford Drills and Skills contest to have an opportunity to practice with the Maple Leafs. The team is collecting votes of support online:
https://forddrillsandskills.ca/Leafs/View/9bb8de60-c315-4b1f-a0a3-0ada7b48d912?page=1