Comfort and Care - 2019 Holiday Appeal

From the Intensive Care Unit to the Surgical ward, the Palliative/Complex Care Unit to the Maternity and Medical Units, patients at Ross Memorial Hospital rely on bedside intravenous (IV) pumps to safely receive medication, fluids and nutrition.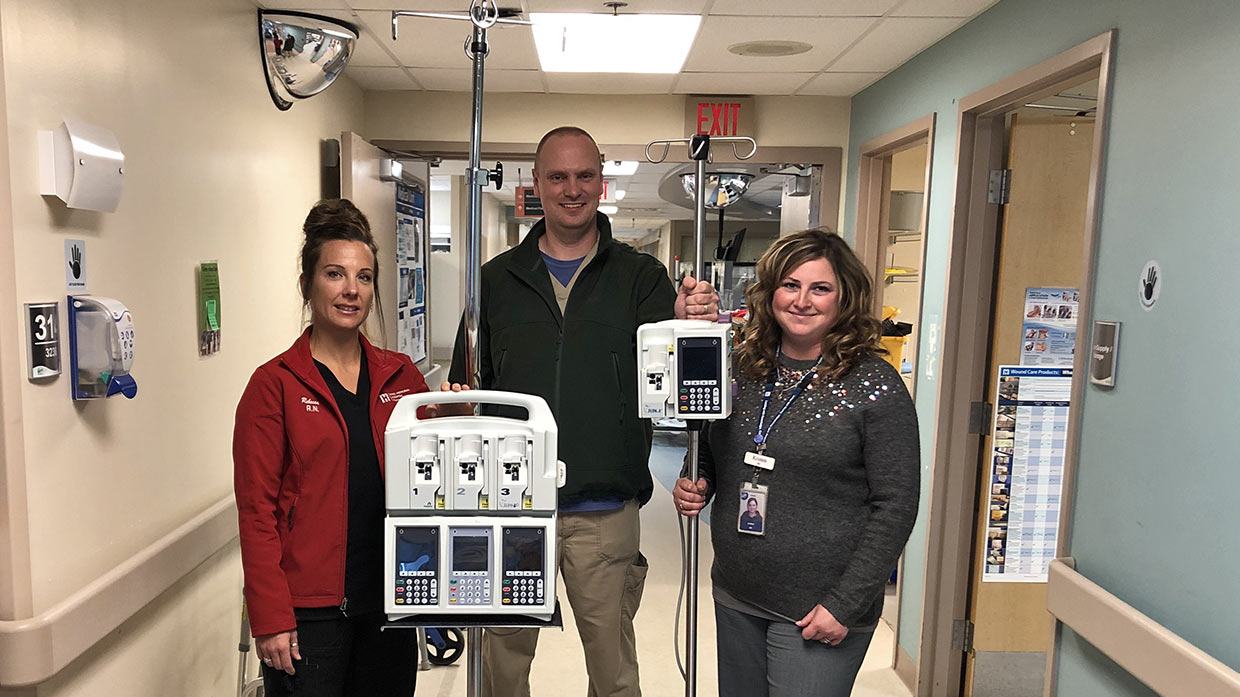 "IV pumps are our partners," says Steven Lofkrantz RPN. Steven, along with Registered Nurses Rebecca Karkoulas and Kristen Parson, is helping the Foundation launch the Comfort and Care Holiday Appeal to fundraise for new IV pumps.
"IV pumps are integral to patients' care — whether they're receiving life-saving treatment in the ICU, or recovering from surgery, or spending meaningful time with family in the Palliative Care Unit," said Erin Coons, RMH Foundation CEO. "IV pumps are in use throughout the hospital, night and day. As a result of their constant use, they need to be replaced regularly, and that's why we're reaching out to the community for support."
The hospital has 170 IV pumps, each equipped with a wireless computer and the latest safety software that can dispense various medications and fluids simultaneously and ensure each dose is accurate and appropriate for the patient. Each costs on average $5,000.
"Most of us have been connected to an IV pump at some point in our lives, and we know just how important it is to have IV pumps at the ready 24/7," said Heather Richardson, RMHF Board Chair. "Government funding doesn't cover the cost of replacing vital medical equipment. Without the generosity of our donors, the healthcare team at the Ross would be hard-pressed to provide the exceptional care our patients need. Your support makes all the difference."