Bobcaygeon Kinettes serve community's greatest needs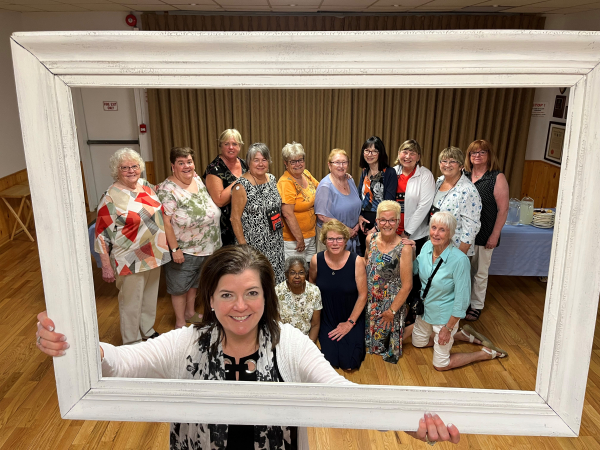 June 23, 2022 - The ripple effect of the generosity of the Kinette Club of Bobcaygeon spreads throughout the City of Kawartha Lakes. In a heart-warming gathering at the Bobcaygeon Legion on June 21, the Kinette Club donated a total of $11,500 to 17 not-for-profit organizations that support Bobcaygeon and the entire municipality.
The CEO of the RMH Foundation, Erin Coons, was honoured to be among the recipients and thanked the Kinettes for their $1,000 contribution to the 'Every Picture Tells A Story' spring appeal to fund the community's new MRI.
Magnetic Resonance Imaging helps physicians confidently diagnose disease and injury in the brain, spine, joints, breasts and organs. It's a vital tool for detecting herniated or bulging disks, arthritic changes, and cancer. More than 500 patient exams are scanned at the Ross every month. The community's MRI is now 11 years old and must be replaced; however, government funding doesn't cover the $2.5 million cost.
"Every picture tells a story, and the Kinettes' story gives me goosebumps," said Erin Coons. "Although so many of their regular fundraising events were cancelled due to the pandemic, they continue to provide financial assistance to organizations that support families, seniors, children, culture and sporting groups, and of course the hospital that we all rely on. It's hard to imagine anyone in the City of Kawartha Lakes who isn't impacted by the Bobcaygeon Kinettes in some way."
Kinettes Marion Gartner and president Shirley Grills thanked the people of Bobcaygeon and the visitors to the community who support their philanthropy efforts including the sale of lottery tickets.
For more information about the RMH Foundation appeal to fund the community's MRI, or to make a donation, please visit this page.