Bringing the best technology and resources to the Ross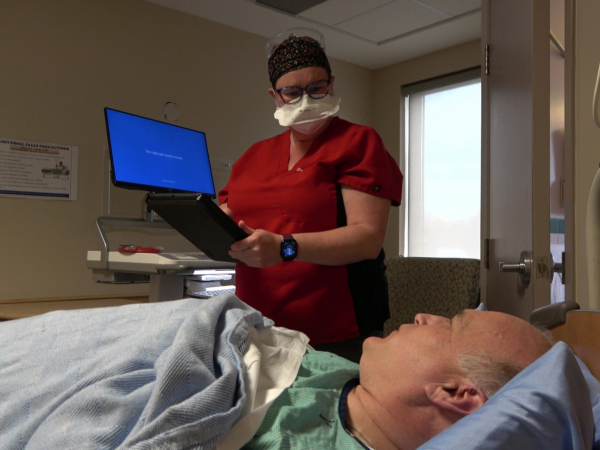 November 14, 2022 - One of the biggest changes in the delivery of patient care is underway at Ross Memorial right now. It's a digital transformation that connects bedside medical equipment and life-saving technology to patients' medical records and connects those digital records to care providers and patients — wherever they are.
The RMH Foundation is grateful to Hospitalist Dr. Sara-Lynn Francis for highlighting the value of the Hospital's new clinical information system in her Holiday Appeal letter that is being delivered throughout the City of Kawartha Lakes.
"Patients' complex care requires many vital steps," said Dr. Francis. "It might mean lab work, imaging scans, procedures or consultations with specialists. I also reach out to family physicians, pharmacists, regional partners, and patient families to ensure each person's care is safe and effective. Fortunately, I have a great team around me. And thanks to donors, the Ross is implementing the best resources and technology to help us care for you better and faster than ever before. This includes the new clinical information system … Simply put, it connects everything we need to care for you."
"As a Hospitalist, it's critical for Dr. Francis to have timely connections to the people and the tools that inform her clinical decisions," said Erin Coons, RMH Foundation CEO. "The new clinical information system marks an evolutionary leap in patient care at the Ross, but it's not covered by provincial funding. We hope people will watch for Dr. Francis' letter and support this transformational technology with a donation."
"As our community grows, it's up to all of us to make sure our local Hospital modernizes to meet patients' changing needs," said Ryan O'Neill, RMH Foundation Board Chair. "The new clinical information system is the building block that will enable information sharing throughout the health system, ensuring the best care for every patient. It's an exciting advancement, and one the entire community can support and celebrate."
For more information or to make a donation, click here.