Exceptional Care in the Kawarthas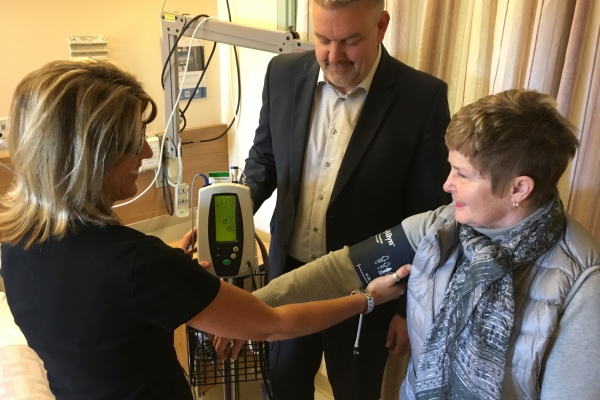 Grateful patient helps launch spring appeal for vital signs monitors at RMH
Healthy all her life, Jan Sanderson never thought a case of the flu could lead to life-threatening complications. But when the flu became pneumonia, then sepsis, she was rushed to the Ross Memorial and spent several days in intensive care.
Jan is grateful that critical care was available close by, and thanks the teams in the Emergency Department, the Intensive Care and Medical Units, and support staff that helped her to recover her health and strength.
Upon hearing of the Hospital's need for new vital signs machines, Jan was happy to partner with the RMH Foundation in its spring fundraising appeal by sharing her experience through letters that will be delivered throughout the City of Kawartha Lakes.
"Through this appeal, the Foundation hopes to raise $87,300 to help the Hospital purchase 12 vital signs machines to take the blood pressure, pulse and oxygen levels of patients receiving critical care," said Tim Shauf, Chair of the RMH Foundation Board of Directors. "These monitors are used throughout the Hospital 24/7 to help patients like Jan. We're grateful for her support and for sharing her own story to encourage others to play an active role in patient care in the Kawarthas."
Provincial funding doesn't cover the cost of replacing medical equipment at the Ross.
Residents of the City of Kawartha Lakes can expect to see the spring appeal letters in the mail over the next few weeks. Anyone with questions about this or any other RMH fundraising initiative may contact the Foundation office at 705-328-6146 or foundation@rmh.org.
Read the 2017 Spring Appeal Letter