RMH Foundation grateful to be part of Kawartha Credit Union's year of celebrations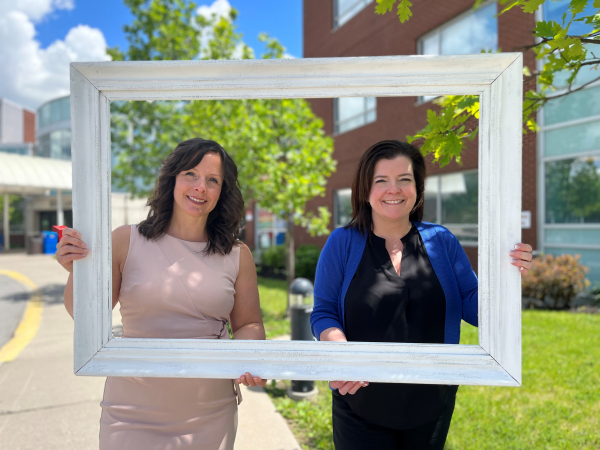 June 8, 2022 - Kawartha Credit Union has much to celebrate, as do many communities who benefit from the financial institution's commitment to philanthropy. As Kawartha Credit Union commemorates their 70th anniversary this year, they also recognize a quarter century of their support for the Ross Memorial Hospital Foundation.
Since 1997, Kawartha's Community Involvement Program donations have helped our hospital acquire equipment and technology including dialysis, echocardiogram, mammography, CT and Xray/Fluoroscopy. Their recent gift of $4,500 will help fund the community's new MRI, once again showing that Kawartha lives up to its purpose of supporting the well-being of the communities they serve.
Michelle Finley, a Kawartha Credit Union District Manager, visited Ross Memorial to be recognized for Kawartha's impact on local patient care.
"Kawartha Credit Union continues to be a strong community partner with its ongoing support for priority needs at the Ross," said Erin Coons, RMH Foundation CEO. "The cost of the new MRI — $2.5 million — is not covered by government funding. With this generous gift from Kawartha, we are one step closer to meeting this critical need. The current MRI is now 11 years old and must soon be decommissioned. We look forward to the arrival of a new, more advanced MRI — one that will serve our community's needs
now and for years to come."
Magnetic Resonance Imaging helps physicians confidently diagnose disease and injury in the brain, spine, joints, breasts and organs. It's a vital tool for detecting herniated or bulging disks, arthritic changes, tumours and other lesions. More than 500 patient exams are scanned at the Ross every month.
With this gift, Kawartha Credit Union's cumulative giving to the Ross Memorial Hospital Foundation is $90,564.
The Foundation has mailed spring appeal letters throughout the City of Kawartha Lakes, encouraging donors' support for the new MRI. Donors can learn more about the spring appeal for MRI here.